Turbo Performance At An Affordable Price.
The World's Best Cooling/Heating System For Any Large Icebath Or Spa Pool:
Lowest Price.
Fully automatic cooling to as low as 5ºC.
Easy maintenance
Easy to use Colour Touch Screen Controls.
Simplest Installation possible.
Plugs into normal electric outlets.
Highest efficiency, Lowest running cost.
High efficiency Heating mode also available.
Environmentally friendly in every way.
No expensive 3 phase power required
No Pool? ICool Can Provide The Perfect Large Pool Or Spa At A Low Price.
Lowest Price All In One Package Solution.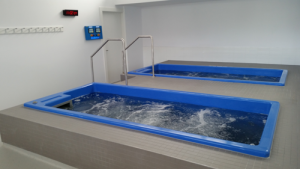 The new iCool Turbo range is an entirely new concept for the automatically cooling and controlling of large ice bath pools or spas for up to 20 athletes at an affordable price.
Until now the only way to chill larger pools and spas has been to have refrigeration and plumbing specialists build and install a one off system using industrial chillers that are designed for industrial and food manufacturing purposes and not for ice baths. This is always expensive and often very unsatisfactory because the equipment is not designed for the purpose and the installers are usually not familiar with current ice bath technology.
On the other hand, iCool is the absolute world leader in ice bath technology and our mobile ice baths outsell all others combined. So it was a natural step to take all of our highly efficiency, multi award wining mobile ice bath technology and apply it to larger pools.
Because we manufacture large numbers of ice bath systems and export all over the world, now you can have the latest and best technology at mass production prices even for big pools. The TurboCools usually cost only a fraction of the price of a one off system, but are much better suited to the job and are much easier to install
Fully Automatic Cooling To As Low As 5ºC.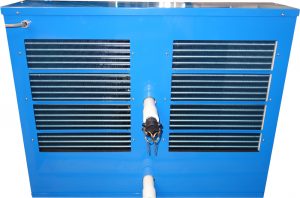 The Turbo Cools are the latest technology reverse cycle heat pumps and in addition they are a unique arrangement of dual parallel systems in a single cabinet that allows for extremely efficient management of power consumption to minimise electricity use. This is really important with systems that need to operate for long periods to maintain ideal water temperatures.
The TurboCools can produce a huge 10,000 watts of cooling power from a very compact cabinet and can cool down to as low as 5 degrees C. In fact they could cool lower, but for the safety of athletes we electronically restrict lower temperatures. All this cooling power uses only around 3300 watts of electricity at full output.
The iCools are the only product of this type in the world specifically designed for sports recovery applications. All other chillers lack the special refinements and features specific to athlete recovery because they use equipment designed for non related industrial and manufacturing purposes and are expensive and inappropriate.
Easy To Use Colour Touch Screen Controls.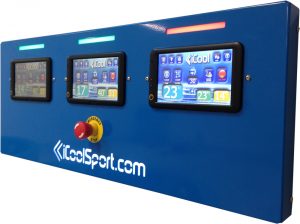 All iCools are fitted with the latest full colour touch screens, you can even install the colour touch screen remotely (ICTurbo "Remote Screen") included now with every Turbo. So even if you install your Turbo Cool or Dual Temp away from the ice spa you can still have all the benefits of remote control, a clear readout of all temperatures and functions and iCool's exclusive built in session timing features that allow athletes to precisely time their ice bath immersion.
Simplest Installation Possible.Plugs Into Normal Electric Outlets.Highest Efficiency, Lowest Running Cost.
Because the Turbo's have all the necessary equipment in one package, there is no need for the owner to provide complicated plumbing and electrical wiring. This can save a lot of time and money and allows a Turbo's to be installed in less than a day.
The Turbo's feature the very latest in efficient digital power management and because the cooling system is split into two complete parallel systems inside a single cabinet, the start up current needed is much lower than conventional chillers because the compressors can be started separately. This unique arrangement allows the Turbo's to run from a standard 15-20 amp power outlet in 220 volt countries. (30-40 amps in North America)
Being a twin system, the digital power management automatically closes down one of the two systems when it is not needed. This is not possible on chillers that have just one large compressor and it saves a lot of electricity. In addition, the power management system varies the airflow of the very powerful cooling fans across a wide speed range that corresponds to the exact cooling demand and this achieves even higher efficiencies.
High Efficiency Heating Mode Also Available.
Turbo's are also available with reverse cycle heat pump capability (Dual Temperature model) and can be used for heating as well as cooling pools. This is perfect for recovery rooms that offer the latest Contrast Therapy where athletes can experience the great benefits of alternating between accurately controlled hot and cold pools. In the heating mode a Turbo Dual Temp can save up to 70% of the electricity normally used by an equivalent electric element heating system.
Twin Pool Contrast Systems Made Easy
Installing 2 Turbo's for 2 pools is the ultimate in recovery capability at very affordable cost. This allows you to operate either pool as a hot or cold pool as required at any time, or to have 2 cold pools on demand for busy recovery sessions. It also provides automatic redundancy when one pool is out of service for any reason as either pool can be either hot or cold as required.
All this can be achieved for a fraction of the previous cost of such a capable recovery centre, with simple installation, low running costs and maximum flexibility.
Environmentally Friendly In Every Way

All iCool chillers, from the smallest to the biggest, use only "Green Gas" refrigerant that has zero environmental impact. Furthermore all components and materials used in manufacturing iCools are fully recyclable.
Active Safety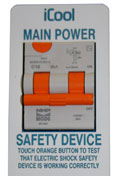 All iCools have many important safety features built in. For example, the entire electrical circuit is protected by an earth leakage safety device that cuts electricity instantly to protect against any possibility of electric shock. There are also protection circuits against over heating, lack of water flow or lack of airflow and in the rare event that any of these protections operates, usually the colour touch screen with give immediate advice as to what has happened and what to do.
ICool Can Even Provide Large Spa Pools Designed Specifically For Ice Bath Recovery.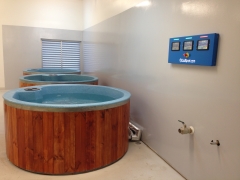 Turbo's are designed to make it really easy and inexpensive to convert any spa or pool into an effective automatic ice bath, however, if you don't already have a spa pool, we also manufacture large spas that have been designed specifically as perfect recovery ice baths for sport. These spas come in both round and rectangular shapes with ideal seating arrangements and foot wells for ideal immersion. They are manufactured from high grade durable long life materials and come with attractive cedar wood surrounds that look good in any recovery room or pool area.
These iCool hard spas come in various sizes to suit up to 6 athletes in one session and cost only a fraction as much as in ground pools. It should be noted that in ground pools are not ideal for ice baths because the energy losses are very high into the surrounding support material, whereas iCool hard spas are very well insulated and this saves a lot on running costs.
Available Models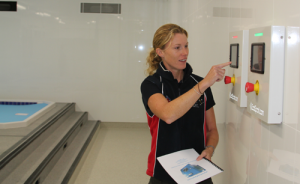 ICTurbo "COOL"
Cooling only TurboCool USD$14,900
ICTurbo "Dual Temp"
Cooling and Heating TurboCool USD$15,800
IC-Turbo-Remote Screen-1
Remote mount touch screen USD$1,999
IC-Turbo-Remote Screen-2″
Twin remote mount touch screens USD$2,499
IC-Turbo-Remote Screen-3″
Twin remote mount touch screens USD$2,999
Specifications:
| | |
| --- | --- |
| Main Chassis | Marine Grade Aluminium |
| Main Top Cover | Marine Grade Aluminium |
| Decorative Panels | Marine Grade Aluminium |
| Handles | side lifting handles |
| Compressor | Twin Rotary |
| Fan | 400mm Rotorex Fan |
| Pump | 750 watts, suitable for salt water or chlorine use-( Included with pool, not turbo unit) |
| Condenser | Copper & Aluminium |
| Heat Exchanger | Twin Titanium Tube in tanks |
| Touch Screen | 7 inch Full Colour LCD with on board computer – remote touch screen included |
| Refrigerant | HR22 Green Gas 300g- Zero Environment effect |
| Water Fittings | Food Grade Polyethylene |
| Plumbing Fittings | PVC 40mm pressure pipe |
| CE Compliances | Yes |
| RoHS Compliance | Yes |
| UL Compliance | Yes all major electrical components |
| Country of Origin | Australia |
| Total Dry Weight of unit | 95 Kg |
| Dimensions L/W/H net | 1050 x 348 x 850 (mm) |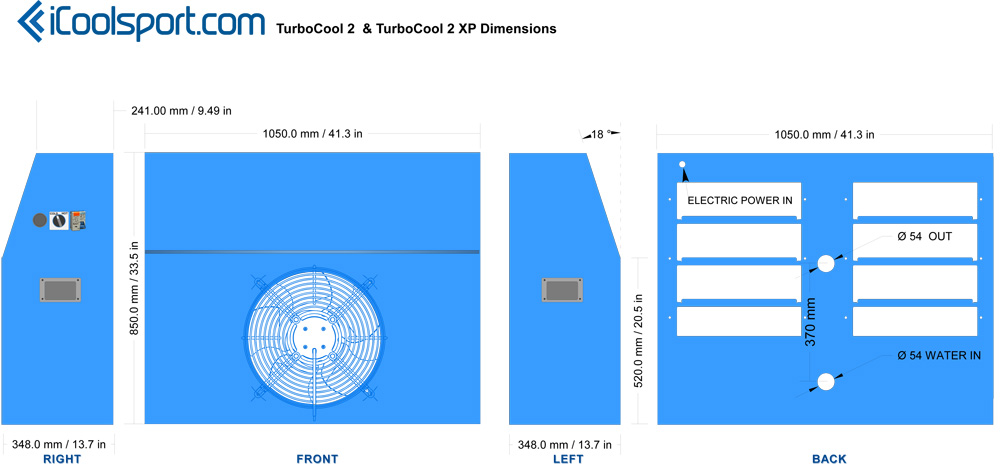 Reviews:*****
---
'We are very pleased with the iCool Turbo. Our Recovery Centre spa is at the correct temperature quickly and easily. With the minimum of maintenance.
The Turbo also uses the familiar, touch screen interface found on the other iCool units. So setup was easy. We have always found service and support from iCool Sport to be excellent.'
D.Key Western Australian Institute of Sport..
---
"Now that we have used our 2 iCool Turbocools for a full season I just wanted to let you know how happy we have been with the performance and reliability and to thank you for the outstanding support you gave us during the initial period while we were getting used to getting the most out of our recovery centre. We have been really impressed with how well the Turbocools cope with the hot weather here and how well they hold the temperature even when the entire team uses the pools at once. They certainly performed as advertised and we hope to install 2 more when our budget allows"
G.Baker Southport Swimming
---