The New 2017 ICool Twin
Now for the first time you can operate 2 pools at the same time from one powerful unit that is fully automatic and can deliver either cold or heat to ether pool.
Each pool has full control across the entire recovery therapy range from 2 completely independent touch screen computers.
This is the perfect low cost solution to provide complete contrast therapy for up to 6 athletes at once from a single machine.
Just connect it to our brilliant new IcePod Dual pools and you have everything needed for a first class recovery room at a budget price.
Of course you can also use the new TWIN to connect to any iCool pools or even to your own baths or pools.
This is all new terchnology and because it's from the worlds number one icebath manufacturer you know it's a quality product that really works and will give many years of service.
A Complete Two Pool Contrast Recovery Centre In A Single Machine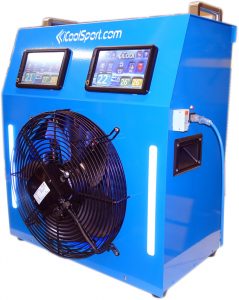 This is a world first. It takes a lot of knowledge and experience to design a small compact device that can cool or heat 2 ice baths at the same time from a single machine. Only iCool, the world's most successful manufacturer of all ice bath equipment, has such knowledge & experience in this field and we are proud to introduce the new iCool Twin.
It is actually 2 completely independent iCool machines in one attractive cabinet. Each one has the full capability of either cooling or heating across the entire recovery therapy range from 4 degrees to 45 degrees. One can be hot and the other cold, or both cold or both hot. Every requirement for your therapy sessions is covered.
The iCool Twin is actually a miniaturised version of our world famous TurboCool that is used in many of the world's major stadiums and by a clubs and sports institutes in 40 countries. So it's the perfect way to get that world class recovery room capability at a fraction of the cost of our very large pool equipment.
Coupled the iCool Twin to our new IcePod twin pool product and you can treat up to 6 athletes at once. It's a world class recovery room at a budget price. About one third the cost of our big stadium twin pool installations.
Made from the very best quality materials and components for years of service without any need for regular maintainance. The Twin, like all iCool machines can be operated continuously 24/7 if needed. No other manufacturers come close to this.
Best Power To Weight Cooling System Available
in spite of the compact size the new iCool "Compact + " can deliver an enormous 5000 Watts of chilling capacity, the most powerful mobile cooling system available for any setup.
Two Completely Independent Touch Screen Computers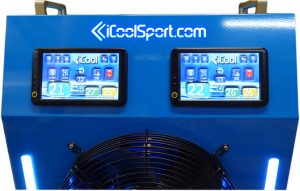 Two High Quality Touch Screen Computers provide complete control.
Either Pool can be set to any Recovery Therapy Temperature
Temperature is Accurately Controlled Seperately for Each Pool.
Ether pool can be set to shut down automatically
Each pool has an independent timing display
Built in power outlets to power and control 2 water filter systems.
Outputs For Both Standard Pumps And Optional Filtration Systems

Super Sized Metal Die Cast Turbo Cooling Fan
Such a large cooling capacity needs big quiet airflow and the new TWIN is fitted with a specially manufactured computer-controlled airflow system that gives exactly the right volume of cooling for the current conditions, with a big reserve of air for difficult hot conditions.
Lighter And More Flexible Water Hoses With Quick Snap Fittings
Water hoses normally become very stiff and difficult to manipulate when very cold. iCool has now solved this problem in conjunction with a leading supplier. The latest iCool hoses are much lighter yet stronger and remain flexible even near freezing temperatures. Our standard quick snap water connectors are now even easier to use and the fittings are sized according to where they connect for easy identification and set up. Each cooling unit is provided with connection hoses.
Specifications:
| | |
| --- | --- |
| Main Chassis | Marine Grade Aluminium |
| Main Top Cover | Marine Grade Aluminium |
| Handles | Stainless Steel |
| Compressor | 2 x Rotary |
| Fan | 2 x Aluminium |
| Condenser | 2 x Copper & Aluminium |
| Heat Exchanger | 2 x Titanium |
| Touch Screen | 2 x 7 inch Full Colour |
| Refrigerant | HR22 Green Gas 300g- Zero Environment effect |
| Water Fittings | Food Grade Polyethylene |
| Plumbing Fittings | Poly fittings |
| CE Compliances | Yes |
| RoHS Compliance | Yes |
| Country of Origin | Australia |
| Weight in Travel box | 81Kg |