New 2017 ICool Compact "XP"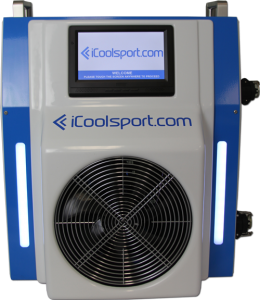 The popular iCool "Compact XP" Extra power cooler for quickly cooling multi-athlete pools, spa baths or two inflatable pools at once now has even more power in a remarkably compact new mobile cabinet..
The New 2017 iCool "Compact-XP" It is more powerful and a more compact ice bath cooling system than anything else available and by a wide margin.
All of this power and convenience comes at the most competitive price available.
If you operate in very hot conditions or need to cool inflatable pools at the same time or cool a multi person spa or the larger iCool demountable pools this is the perfect solution, nothing else even comes close.
The New iCool "Compact-XP" also makes a perfect permanent installation for a fraction of the cost of other built-in systems but with all the same benefits and more convenience and better options.
You can own a complete iCool "Compact-XP" system including an iCool inflatable pool, which is now the world standard, for as little as 10% of the cost of most large permanent ice pool installation, yet the iCool provides the same facility with much greater convenience and flexibility at a fraction of the running cost. Alternatively you could own as many as 10 complete iCool systems for the same cost. Imagine how much flexibility that would give you for all your ice bath recovery sessions anywhere any time.
Lightest And Smallest Chiller System Available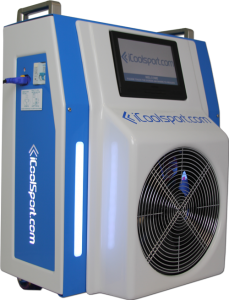 it takes a lot of cooling power to cool an ice bath and only iCool has managed to build all that power into such a compact rugged and easily transportable unit without any compromises and with every feature necessary to make ice bath therapy quick to set up, easy to use and easy to pack up and re-transport.
Best Power To Weight Cooling System Available
in spite of the compact size the new iCool Compact XP can deliver an enormous 7000 Watts of chilling capacity, the most powerful mobile cooling system available for any setup.
Latest Technology Electrically Isolated Whisper Quiet Circulation Pump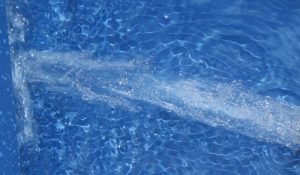 To save weight without compromising efficiency or safety, the latest ICool's have new generation of rotary circulation pumps especially designed for the purpose. These pumps are electrically isolated from the water in a stainless steel jacket for complete safety.
Huge Resolution Colour Touch Screen

iCool is proud to introduce an industry first, a large full-colour touch screen replaces all switches and buttons. Apart from making it much easier to use the system it allows us to install many new useful features. For example much more information is available to the user including instructions and help screens. Furthermore, as the system is based on a powerful Windows CE operating system it is backed by industry standards which allows us to modify systems to suit customers needs
Stronger And Easier To Transport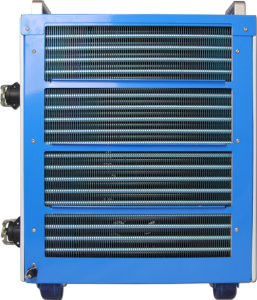 Now built on a strong but light alloy chassis built by computer-control- led machinery for accuracy and strength. Mounted on wide strong advanced polymer wheels and fitted with rugged stainless steel handles.
Super Sized Metal Die Cast Turbo Cooling Fan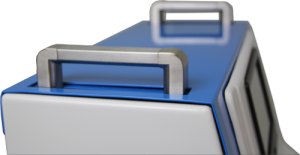 Such a large cooling capacity needs enormous airflow and the new iCool's are fitted with a specially manufactured multi- speed computer-controlled airflow system that gives exactly the right volume of cooling for the current conditions. Slower and quieter for normal conditions but with a huge reserve of air for those very difficult hot conditions. All the performance you need at the right time automatically.
Lighter And More Flexible Water Hoses With Quick Snap Fittings
Water hoses normally become very stiff and difficult to manipulate when very cold. iCool has now solved this problem in conjunction with a leading supplier. The latest iCool hoses are much lighter yet stronger and remain flexible even near freezing temperatures. Our standard quick snap water connectors are now even easier to use and the fittings are sized according to where they connect for easy identification and set up. Each cooling unit is provided with connection hoses.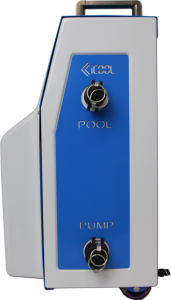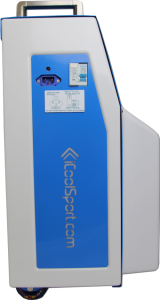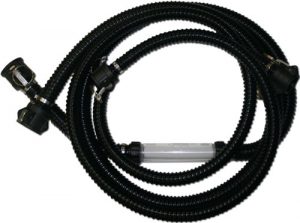 Military Tough Travel Hard Case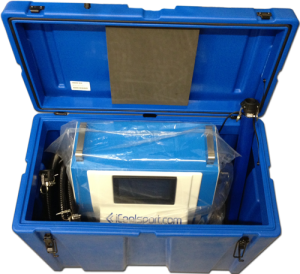 Safely packaged in an almost indestructible military standard travel case that holds your iCool Compact Dual Temp plus everything necessary to connect to our world standard iCool inflatable ice bath or to your own pool or spa. (optional extra)
Which Pool Shall We Use?
The iCool Twin can connect to any of the iCool inflatable and demountable baths even linked together. Simply connect the fast hose fittings supplied. Easy..



Its your choice.
Specifications:
| | |
| --- | --- |
| Main Chassis | Marine Grade Aluminium |
| Main Top Cover | Marine Grade Aluminium |
| Decorative Panels | 3mm ABS |
| Handles | Stainless Steel |
| Compressor | Rotary |
| Fan | Cast Aluminium |
| Pump | 12 Volt inline automatic pressure regulating. Variable speed brushless longlife motor |
| Condenser | Copper & Aluminium |
| Heat Exchanger | Titanium |
| Touch Screen | 7 inch Full Colour |
| Refrigerant | HR22 Green Gas 300g- Zero Environment effect |
| Water Fittings | Food Grade Polyethylene |
| Plumbing Fittings | Poly fittings |
| CE Compliances | Yes |
| RoHS Compliance | Yes |
| Country of Origin | Australia |
| Total Dry Weight of unit | 35 Kg |
| Hoses & fittings for iCool pool connection | 1.3Kg |
| Travel Case Military Grade Polyethylene | 13Kg – (Total 55 kg in Box) |